A clogged septic tank often leads to many inconveniences. Therefore, it is advisable to fix it quickly. You can do so using the few techniques below.
Signs of a Clogged Septic Tank
The septic tank is a wastewater treatment system. It can become clogged due to the accumulation of residue and sludge. One of the warning signs is a foul odor. This smell can be felt around the tank itself, but it can also be carried into your home through your pipes. When the water flows slowly or makes gurgling noises, it's also time to take action. Otherwise, it can lead to a back-up when you flush your toilet.
Unclogging Techniques
Before performing any operation to unclog your system, you must first identify its origin. To do this, simply look through the manhole. If water is not coming in, the problem is upstream. However, if you notice that the tank is half full of sludge, it needs to be drained.
Generally, it is easy to unclog the pipes in the house. All you have to do is remove the traps and clean them. Then run hot water to degrease all the pipes.
Check the various filters if the problem is outside installation, such as the pit pipes. Bring the necessary equipment (gloves and bucket) to unclog them because you will have to clean them by hand. Once all the residues have been removed, spray the pipes with water.
However, if the source of the clog is not visible from the outside, you will need the help of a professional. The objective is to inspect with a camera to locate the origin of the problem. Generally, the unclogging is done employing a pressurized water jet.
Emptying the Septic Tank
In most cases, the septic tank is divided into two compartments: the sludge storage tank and the water tank. The process consists of sucking out the sludge and water in the tanks and cleaning with clear water. Following the cleaning, the water from the second tank is reinjected to ensure the development of bacteria, whose role is to purify the wastewater. Note that emptying a septic tank is an operation reserved for professionals, as it requires the use of pipes and a vacuum truck.
You should know that pit emptying should be done every 4 years. However, you may have to do it sooner, depending on how you use your tank.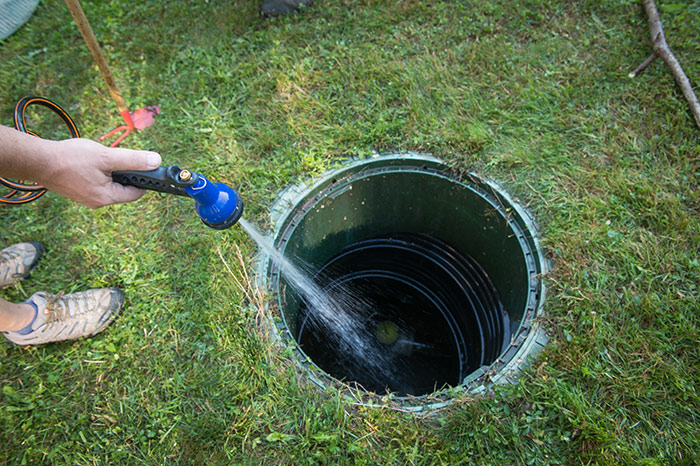 How To Maintain a Septic Tank?
In any case, it is your responsibility to take precautions to avoid clogging your septic tank. For example, avoid leaving residues in your sink, whether food debris or your hair, when you wash it. You should also know that cooking oil is one of the leading causes of clogs in your pipes. As you know, toilets should not receive any waste, except for paper.
To better maintain your pipes, plan to descale them regularly. Otherwise, you can always opt for water mixed with baking soda. Different products are available on the market.